Fraggle Rock: Tails and Tales
Get ready to rock—Fraggle style! Archaia and The Jim Henson Company follow up their highly acclaimed Fraggle Rock anthology series with a brand-new collection of stories, featuring the antics of Gobo, Mokey, Wembley, Boober and Red! Worry is indeed for another day, as this new series features a stellar lineup of talent including artists Lindsay Cibos, Katie Cook, Chandra Free, Cory Godbey, Chris Lie, David Petersen and Mark Simmons, and writers Jake Forbes, Joe LeFavi, Paul Morrissey, Grace Randolph and Katie Strickland.
Lindsay illustrated the back cover illustration featuring Cantus the Minstrel and the rest of the Fraggle gang, and a the short story about Uncle Traveling Matt called "Shopping With Silly Creatures".
Publisher: Archaia Entertainment

ISBN: 978-1427815972

Published: August 2, 2011

Hardcover, 128 color pages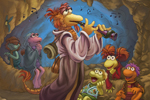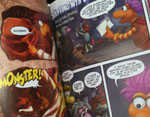 Available through Amazon and Barnes and Noble, or check Indiebound to purchase at your local bookstore!